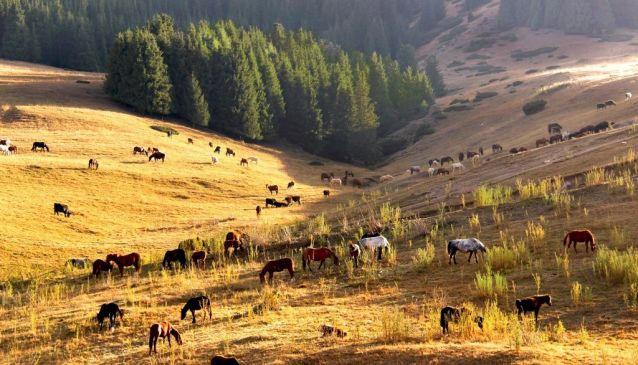 Hills, Horses & Hospitality in Kazakhstan
Kazakhstan
Perhaps the most endearing characteristic of Kazakhs is their hospitality...
No destination has challenged our preconceptions like Kazakhstan.
Like many English-speakers, before we came here the first thing we associated with Kazakhstan was Borat, the satirical movie by that portrays Kazakhs as backwards, awkward, and intolerant – hardly a positive image! The reality we found could not be farther from the truth, and we used our week to move past these misconceptions and portray Kazakhstan as we saw it with our own eyes.
Let's start with the basics: Kazakhstan is a gorgeous country situated between Russia, China and the rest of Central Asia. It is the ninth largest country in the world, home to over 150 ethnicities and colored by a number of historical and cultural influences – from its nomadic origins, to its position on the Silk Road, the arrival of Islam and its joining the Russian Empire to the subsequent absorption into the Soviet Union. The recent discovery of oil has spurred development across the country, making locals very optimistic about their future and eager to welcome foreigners into their modern homeland.
But not all is new and shiny. Immediately upon leaving the airport, we were accosted by a horde of taxi drivers who tried to charge us $200 to bring us to our hotel. Luckily, the MyD rep had told us the correct price to pay (about $20) so finally we were able to haggle our way into a taxi – albeit a broke-down, unmarked car with no meter.
It was dawn as we rolled up to the Kazakhstan Hotel, a relic from the Soviet Era that remains a landmark in the city. It was built as part of the InTourist system that managed foreign tourists in the Eastern Bloc countries, and the combination of this anachronism with the modern chic-rooftop bar 'Bar Fly' and the 'The Guns n' Roses Pub-Grille' made for an interesting juxtaposition of images and eras.
After a short nap we found ourselves in a press conference, fielding questions from three different television channels, two internet publishers and a newspaper. Through our Russian translator, we described the nature of our trip and how we were interested in highlighting Kazakhstan's traditional cultures and numerous ethnicities.
To that end, we began our tour with a traditional dastarkhan lunch at Gakku, Kazakh restaurant with a luxury yurt built inside the dining room. Over a three-hour meal with the owner Aidar, we learned about Kazakh culture while sampling many local delicacies – including mare's milk (kumyz) and the national dish: horse sausage (kazy).
Kazakh music was easier to stomach – delightful, in fact. At the State Museum of National Musical Instruments we observed a concert in which the musicians demonstrated the most incredible features of Kazakh music: how shaman used to imitate the sounds of nature while guitarists could play while operating a wooden mountain-goat puppet that danced along with their music.
The next day we struck for the hills around Almaty, which are really one of the city's finest features. Within forty minutes we were at the shores of Big Almaty Lake, which is one of the most picturesque mountain lakes in Trans-Ili Alatau. Sourrounded by mountain peaks decorated in Tien-Shan fir, it's an impressive 2510 metres above sea level. From there, it wasn't far to the Sunkar Falcon Farm, where learned about falconry, a tradition developed by the nomads of Central Asia to hunt for food in the winter.
We found Kazakhstan's nomadic culture fascinating, so the next day we left Almaty with VeloTour KZ to ride bikes through the Assy Valley, bringing a TV crew from Kazakh TV to document our journey. Within two hours we were tracing a glacial-fed river through a deep, narrow gorge, watching the colors of autumn fly past our windows.
After a brief interview with Kazakh TV, we unloaded the bikes and rode up the hill to the top of the valley, where we found an abandoned observatory from the Soviet-Era before emerging at a wide, open valley full of horses.
In the distance, we saw a nomad galloping off towards his yurt, perhaps spooked by the sudden arrival of two vans, a TV crew and a couple Americans with four bikes. We wanted to meet them, but knew we'd have to wait for the right time.
Once the TV crew left, we cautiously approached the yurt, expecting hostility. Instead we found a wild yurt-party in full swing, where a dozen nomads sat chewing on horse meat and swilling vodka. They instantly sat us down, filled us a shot and offered to slaughter one of their horses and cook us dinner.
We declined. Thirty minutes three shots later, we were all laughing and one nomad was standing on his horse's back taking a shot of vodka – our signal that it was time to leave before things got too crazy.
The next few days we spent closer to Almaty. We rode the third longest gondola in the world to Shymbulak Ski Resort, then met up again with Alex of Velo Tour KZ to hike up the nearby valley to the base of Tuyuksu glacier. Back in town, we sampled more regional cuisine: from Uigur food to possibly the best meal we've had on the trip: Uzbek cuisine at Alasha Restaurant, served in a palace-like complex with regal service and a nice desert of baklava, tea and narghile.
Perhaps the most endearing characteristic of Kazakhs is their hospitality. All week we were invited into people's homes/yurts for meals and a warm welcome and in that vein we ended the trip with a Kazakh wedding. After a long meal (and more horse meat), a traditional dance show, dozens of toasts and hours of dancing with Kazakh grandmas, we finally made it back to our hotel to pack up our bags, edit our videos and prepare to leave for the Middle East.
Want to know what's next in store for Marko and Alex? Then keep an eye on our blog and tune in to BBBtv…