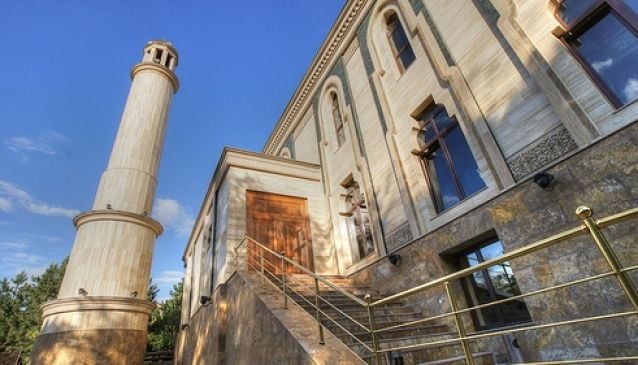 Almaty and Astana, Twin Flames of a Bright Nation
Arts & Culture
Two cities richly diverse yet united by a passion for everything that makes them wonderful places
Ever been to a place where traditional and modern are spoken in the very same breath? Ever wanted to escape to somewhere where the splendour of the vast natural landscape lies but a few steppes away from the blossoming modern cityscapes of the new millennium? How about a country with two capitals, each of which a jewel of the wider Central Asian region, and each a twinkle in the bright blue Kazakh eye.
Almaty
and
Astana
are proud to represent the new Kazakhstan and a combined population of over two million are honoured to consider themselves inhabitants of two cities richly diverse yet united by a shared passion for everything that makes them such wonderful places.
These two million people represent over 150 different ethnic groups and an even greater number of
customs and traditions
. The two capitals are refreshing evidence of how easily different peoples can comprise an open and tolerant community where everybody feels at home, regardless of their nationality or way of life. Various festivals across the diversity of cultures are respected in Astana as in Almaty and the calendar is representative of many of the most significant. Their squares and parks host with some regularity celebration of the beauty of life itself.
Events
with music, dancing and performing artists give each place a lot of its vitality.
There is no shortage of
things to do
in the previous and present capitals.
Cafes
,
restaurants
and
clubs
see that people do far more than just turn in for the night when the sun goes down. The range of venues in Almaty is endless, in Astana, ample. Traditional cosy joints a mere few paces from lavish modern establishments give the hard-working people of Kazakhstan's main settlements a rich choice of ways to let their hair down after a day working for their flourishing national and international employers.
On that subject, speculators could do a lot worse than check out the markets both southern and northern with economic growth the envy of many making investment a worthwhile consideration. And the benefits are not just of the few, the cities benefitting widely from the influx of capital on a national scale with new retail centres and entertainment venues equal to the best found in the west. Mega Centre, Esentai Mall and the forthcoming Dostyk Plaza in Almaty complement the magical Khan Shatyr in Astana to put local shops very much in the shop window, part of the reason why big business is making the move over to Kazakhstan.
Neither city has oil under its soil but the sensibly invested profits from the industry located heavily in the west have led to a construction boom with a resultant modern cityscape which defies any suggestion that this is a second or third world country. Developing it may be but by now well past the embryonic stages and the country, led by Almaty and Astana, is fit for the 21 st Century and putting in place an infrastructure to serve it well into the future.
Yet by now it may be time to clarify that although collectively these cities are referred to as the two capitals, the official capital is in fact Astana, and has been since 1997. Almaty holds the status of A City with National Significance and retains the tag of being the cultural and economic capital, quite why it is of such importance to the country. From this distinction it stands to reason that similarities notwithstanding, the twin flames of the steppes are very much places with their unique charms and characteristics.
Almaty is known for its mountains, the Tien Shan a dominant feature of any views southwards across the rooftops, whether they date back to the Soviet era or are more recent. The snowy peaks smile down on many thousands of those who make the higher reaches a regular leisure destination.
Medeu
and
Shymbulak
are world class facilities for skating, skiing and snowboarding. The mountain trails are passable in the warmer months to those of a mind to witness some of the magnificence of the great outdoors.
Meanwhile, Astana, although not blessed with options such as these does boast relative proximity to the national park Borovoe which attracts many with its unspoilt landscapes and promise of rest. The outskirts of Astana extend into the steppes, unvaried for thousands of miles yet fascinating and beautiful, once the home to the great hordes of nomads whose ways of life still pervade Kazakh culture and traditions today.
Almaty is a fine city with options both inside and outside its confines, while Astana's attractions are mainly those which were conceived in the minds of those who moved the capital here from the south over a decade ago.
Shopping centres
and sports facilities have kept pace with the construction of business and residential buildings, while
restaurants
and cafes are slowly and surely opening their doors to those looking for fun into the wee small hours. Almaty is ahead of Astana in this regard with seemingly thousands of places to eat or drink, but the latter has taken the hint and recognises the value of listening to its southern counterpart. Stand by for a packed social calendar sheltered from the sub-zero winter temperatures. Astana challenges most standard thermometers more than Almaty by a clear 30 degrees. Temperatures in the windswept capital dropping to as low as minus 50°C in winter.
In Almaty car registration plates begin with the letter 'A' while you can tell that somebody is from Astana if their car has a 'Z'. Almaty has more types of public transport considering there is no tram nor underground in Astana, although arguably this doesn't make it easier to get round. Both cities were founded by Russian missions and originally known by different names, Vernyi (Almaty) and Tselinograd. Both have been governed by the same mayor, Imangali Tasmaganbetov who played a role in each place hosting the 2010 Asian Winter Games. The Fryday Group has members active in both cities and there are wonderful groups of locals and expatriates working hard to make their city vibrant, energetic and attractive places to guests and residents.
Each city has its unique traits and neither is intent on mimicking the other, in spite of a mutual desire to enhance life for locals and visitors in every sphere. A world class country needs top class cities and as Kazakhstan raises its profile round the globethe twin brands of Almaty and Astana can only help other nations realise the true worth of this under-explored yet immensely capable state. Astana, unlike Almaty, is set to become a household name globally with sporting teams bearing the very same name excelling in cycling (and potentially, Formula One). But in Almaty as much as anywhere else is the success important to the people who deserve it the most.
Kazakhstan
is a place of work and fun, in many ways as good as anywhere else on the planet and with
Astana
and
Almaty
leading the way, each doing what they do best, life here can only get better.
Photo Credits:
Downtown Astana, Arc de Triomphe, Astana, Astana pyramid: Picture credit:
Ken and Nyetta