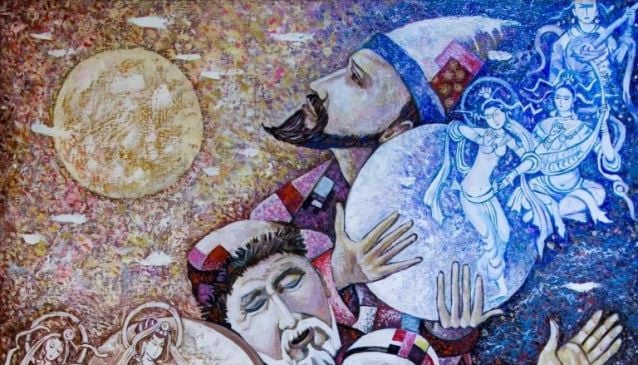 Hashimian Kurbanov:
Arts & Culture
Hashimian Kurbanov: Every artist has his own audience
This midsummer an art exhibition 'Atmosphere' by Hashimian Kurbanov took place in Esentai Mall. Gifted Almaty artist created charming atmosphere of oriental fairy-tale. He is a participant of many republican and international exhibitions, festivals, symposiums, honored artist of Kazakhstan, member of Artists Association of Kazakhstan, won 1st degree 'Ilham'prize by Uighur patrons. Hashimian Kurbanov's creative record registered in The Guinness Book of Records of Republic of Kazakhstan.

Despite a variety of solutions in styles and genres, your works are united by marvelous aura: one can feel warmth emanated from paintings. How are you able to create such "atmosphere"?

At first, the show was called 'Travel to Kashgar city' in memory of Chocan Valikhanov, who was sent there hundred years ago with scientific task by Russian Academy. The goal of my travel on historical homeland was another one. In ancient Uighur cities of Kashgar, Hotan, Turfan I collected materials about customs and traditions of Uighur people in order to keep in my paintings our historical roots, no matter what country we live in. Who would sing about our history and culture, if not me, Uygur? The knowledge of the place is in my genes and I can see ancient Kashgar in my own way. When for the first time I got there, everything was already familiar: colors, tastes, language. I was walking along Kashgar streets like my hometown, as if I had already been there long before and inhaled familiar smells of bread and smoke, felt the taste of shashlik, saw common people - traders, musicians playing directly on streets. My works are filled with these feelings up.
During artistic career I changed my style, theme, subject more than once, until found the one of mine. For the last ten years I am faithful to a theme of rural scenes, urban streets, rites and customs of the Uighur. They inspire me to search for new technologies, trends and styles. To make each painting unlike others, I connect applied art with painting, three-dimensional forms, photography, and graphics. In creative experiment the idea of picture frames in the form of gate was born. Kashgar and Turfan streets are unique by household gates with the family microcosm behind. These gates are several generations long. I made about 20 types of gates that serve a baguette picture and at the same time, when open and close, they create 3D effect. It turns out a game as in real life: we all enter the life through one gate and get out through another. And when my gate open, a viewer enters the history and culture of Uighur people: there are rural streets, courtyards, grandparents in the paintings kept in memory from my childhood. I loved to sit near the elderly and listen to conversations about history of region, villages. So far I have nostalgia for their wise words and hints.
In addition to the national Uyghur, you are alien to Indian motives as well. Is it an accident?

It is not Indian motives. These are Uighurs of Buddhist era. Our nation is very ancient, for the history it also adopted the religion of Christianity and Islam. Since Buddhism, 5 - 6th century ad, we have preserved many architectural monuments, including wall paintingsof the Caves of a Thousand Buddhas. I researched 1,5-millennial technology of wall paintings in these caves. Buddhist motives in my paintings is a tribute to creativity of ancient masters. Our ancestors' compositions I passed through the prism of my nowdays awareness and creative style.

Tell me, please, about your artistic career. Do you come from art environment?

I was born in Tashkent, Uzbekistan, but the family moved to Kazakhstan and from the age of four I grew up in the town of Zharkent. Acting is in my blood, although my mother was a doctor and father an orientalist. My grandparents on mother's side were actors, poets, writers. Since childhood I danced, sang, played musical instruments, dreamed of becoming an actor, dancer or singer. In the age of 1.5-2 showed a tendency to draw (I still keep those drawings). In 5th grade I was so fond of drawing, that my father showed my pictures to our countryman, the first Kazakh artist Abylhan Kasteev, who appreciated me and presented the book "Russian Artists Peredvizhniki" and so my creative way started.
After school in Zharkent, I studied in Almaty Art College. Among my mentors there were such known artists like Maris Khitakhunov and Kenzhebai Dusembaev. Upon termination in 1976 I was sent to the Tashkent Theatre and Art Institute, faculty of monumental and decorative painting. In 1981 returned to Alma-Ata to teach in Art College. In three years I still taught monumental and decorative painting in Almaty Theatrical and Art Institute. However got married and left back for Zharkent. To support family I had to work hard there as a decorator in a cultural institution. I heartedly rushed back to Alma-Ata, but only in nine years when my children grew up, in 1994, a new starting point started in my career.
During Zharkent time, 1987-88, I discovered a technic of 'tykvyanka'(decorative pumpkin).Up to now, over 25 years I am engaged in this art and craft. First I hoped, that am a pioneer in this technology. With advent of Internet I learned that this applied art is widely known in many countries of Africa and Latin America. However, African, Mexican, Peruvian tykvyankas unlike each other. The material is common, but color, style, theme different. A thousand years ago Uighur ancestors also used to make utensils from decorative pumpkin. In times of the Great Silk Road this plant served a natural thermos to keep water.
Is technique of 'tykvyanka' more craft than visual art?

On tykvyanka I used to try all techniques and materials of visual art: both acryl and roasting, both nitro paints and oil paints, painted them up like nested dolls, even friends criticized me for. But I didn't stop and experimented, and eventually made my point. Now I know precisely that it is not kitsch or amateurish work, it is applied art. My favorite color is ochre, brown and today in majority of works I keep their natural warm color, the color of history, sun, fire, body. For 25 years I have produced over thousand tykvyankas. This peculiar record was registered in the Guinness Book of Kazakhstan. Foreigners happily buy them. About 500 pieces left for America, and I eager to do each one better and better. These dolls like my kids, who parted worldwide. It means my works are wanted. Artist is the one who is in demand. Every artist has his audience, customers, critics. Someone like my arts and crafts, and the rest - my painting...
What artistic tradition do you think you belong?

I have visited a lot of museums around the world and enjoy some artists, but do not want to be likewise. My style is "decorative and realistic vanguard". Being a monumental artist in core, I keep combining color spots and unusual flatnesses in my applied works and paintings. Playing in different ways with flat and decorative colors I get poetic, intricate pictures about culture and history of Uighur people, like in 'Rhythm of Soul' painting. There are different layers: myths, history and the present. Three musicians play the motives our ancestors played a thousand years ago. Their musical instruments pour ringtones-memories in the form of flying fairies. In this way I link the present with the past...

Amongst foreign artists I allocate Gustav Climt, in Kazakhstan - Bakhtiyar Tabiev and Maris Khitakhunov. At one time enjoyed Rembrandt, appreciate artists of Contemporary Art for their search for new. Sometimes, want to try self in this or that style as well. But an artist, if he likes, follows that direction, and I like my style: a little abstract, a little realism, and in some places vanguard.

Thank you for the interview.