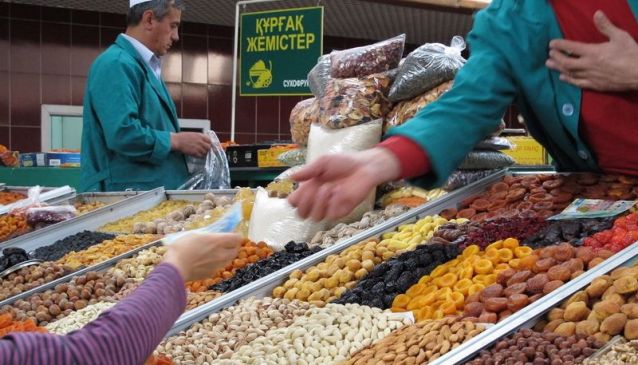 Everything Your Heart Desires
Food & Drink
Today the Zelony Bazaar brings goods and delicacies from all over Asia
Shopping in Almaty not only caters to your interests but also your appetite. In Almaty there is an abundance of modern shopping centres and supermarkets, which are well stocked with a variety of products from around the world.
The most popular of these is the market in the centre of the city called Zelyony Bazaar (literally the Green Bazaar), which is located on Zhibek Zholy Street between Kaldayakov and Pushkin Street. Today the Zelony Bazaar brings goods and delicacies from all over Asia, the Far East and several other regions of the world.
From experience, we know that the center of the Green Bazaar is a great place to satisfy your gastronomic desires. Pavilions line the isles, providing an infinite selection of fruits, vegetables, dairy, traditional Kazakh food and drinks, delicious meat, fish delicacies, homemade cheeses and Korean-made salads. A huge portion of the food center is dedicated to try before you buy dried fruit stalls. The market brings fresh caviar from the Caspian Sea, as well as medicinal varieties of honey, including those from neighbouring Kyrgyzstan.
So how to get here? Even with a map, they say you can get to the Green Bazaar simply by following your nose. Considering it shares its location with the largest chocolate factory in Kazakhstan this local saying does have an element of truth to it. Rakhat, the most popular confectionary producer in Kazakhstan occupies an imposing building just across a side street and the smell of its many varieties spreads to the bazaar and its stalls waiting to do business with locals and visitors alike.
The following are some tips for your visit to Green Bazaar:
1. The bazaar operates from 9:00 to 20:00 Tuesday to Sunday.
2. To avoid heavy traffic, visit Zelyony Bazaar on weekdays. Parking is 100 Tenge.
3. Take the chance to enjoy yourself bargaining with the merchants and, of course, tasting the free food available to shoppers.
4. Take the opportunity to visit the National Museum of Folk Musical Instruments and the Zenkov Cathedral, both of which are in walking distance of the Zelyony Bazaar.