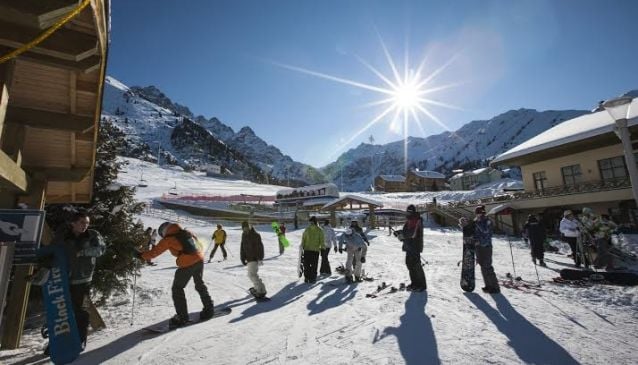 Discover Almaty & Astana Thanks to Air Astana
Adventure
Starting from October 16, 2013, a project launched by the national carrier Air Astana will see visitors to Kazakhstan able to take advantage of a number of options designed to make their stay more enjoyable and convenient. The Stopover package is aimed at travellers choosing to fly internationally via Kazakhstan and primarily consists of a basic package of one night, but with additional options available to extend the stay and add on extras during the day.
The special offers that Air Astana is proud to present are provided by My Guide Kazakhstan and the all-year-round project will run in conjunction with three participating properties in Astana: the King Hotel Astana, Grand Park Esil Hotel and Ramada Plaza Astana Hotel; and five properties in Almaty: the Rixos Almaty Hotel, the Rahat Palace, the Royal Tulip, the Grand Tien-Shan and the Iris Hotel. Be sure to show your stop-over voucher to benefit from the range of special offers.
There is no minimum group size and as the stay is pre-booked everything will be on-hand and sorted out for you when you arrive. There are discounts in participating restaurants and pubs with cut-price car rental included to maximise your enjoyment of the country.
After landing with Air Astana (on any KC flight), the airport transfer will take you into the city where you will have a choice of one of the above hotels plus breakfast, with half-day tours of either city included as optional. Other attractive offers will be thrown in including various privileges at food retailers in Almaty and Astana as well as a free local SIM with 15 international SMS credits.
Prices start from US$125 per person for the first night and US$75 for additional nights (twin/double accommodation) and for this there is an unrivalled chance to get to know the thriving heart of Central Asia. You may choose to visit either of the twin flames of our country, Astana or Almaty, both prospering and modern cities keen to welcome tourists.
Astana is known for its modern cityscape and booming retail scene. Visit the mighty Khan Shatyr shopping and entertainment centre, the world's biggest tent and one of the world's most interesting malls. Go to the top of Baitirek and gaze out across the newest capital city in the world, as well as the second coldest. Take a short river cruise (summer only) and marvel at how such a city has been established in just over a decade. There are also the main culinary attractions, karussel and India Gate, worth an evening meal any night of the week.
Moving south, the main destination is still Almaty, the former capital and still the economic powerhouse of the country. Here you will be spoilt for choice whether it's for touristy things, shopping, entertainment or dining. Almaty has so many events and things to do that most likely a single stopover will only leave you wanting more.
If looking for gifts, there is the newly extended Mega Shopping Centre with its exciting new branded shops and leisure options. There is the fascinating Museum of Musical Instruments, the Zenkov Cathedral and the world famous Medeo and Shymbulak winter sports stations. After your optional stopover city tour, which may or may not include visits to these and many other places, why not have a drink or an evening meal in one of the hundreds of cafes and restaurants? There are certainly too many to include here, but our list is headed by Line Brew, Caffé del Teatro and The Noodles, all located in the cultural quarter of the city.
Later in the day, or should we say night, you can party in one of the many lively bars and clubswith all the energy of some of the best night spots anywhere in the region. There is Guns and Roses, the American style pub grille with its amazing live music and dancing girls. London Grad and Petroleum also feature, with many tourists reporting having had a great time in each place.
Tourism is still developing in Central Asia yet we recognise the value of inviting guests to share our country, and opening the door to those here for very short periods will enable us to show even more people how much we have to offer.
For full information, and to download a brochure, visit http://airastana.com/int/en/Holidays-Stopover-Packages.aspx or go to www.airastana.com where you can also book flights across Europe and Asia.
The tariffs on special offers are valid for one person according to the provision of the above-mentioned documents. Air Astana holds no liability to any program changes from time of publication of this guide.